Waringin Hospitality Distributes Over 1500 Rice Box Donations in Various Cities
Indonesia is currently fighting the COVID-19 pandemic. Waringin Hospitality Group also helped ease the burden on the community with the #DARIHATISALINGBERBAGI # 1FOR1FORINDONESIA movement.

This movement is an invitation to the public to donate by buying food for Rp. 25.00 / pcs, which can be ordered through Luminor Hotel or Hotel 88.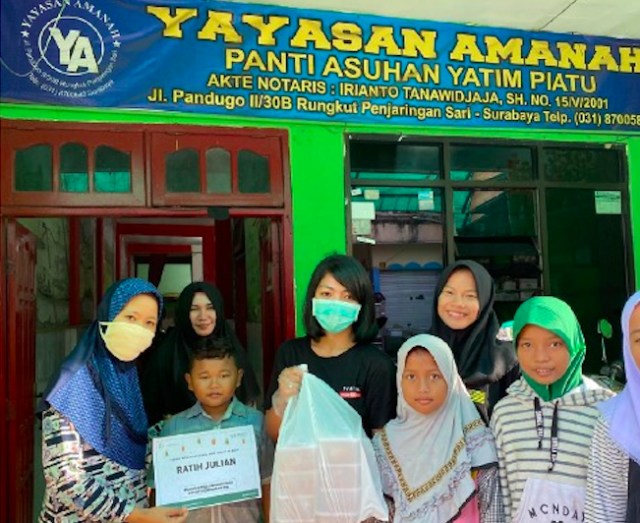 This donation will be donated to those in need, especially those affected by COVID-19. Every donation given by the community will be multiplied by the Waringin Hospitality Group. In this donation there is no minimum order amount.
On Friday, May 15, 2020, Waringin Hospitality Hotel Group's Hotel 88 and Luminor Hotel simultaneously in Jakarta, Bandung, Purwokerto, Surabaya, Sidoarjo, Jember, and Banyuwangi hotels distributed more than 1,500 boxes of donated rice to donated rice several places in each of these cities.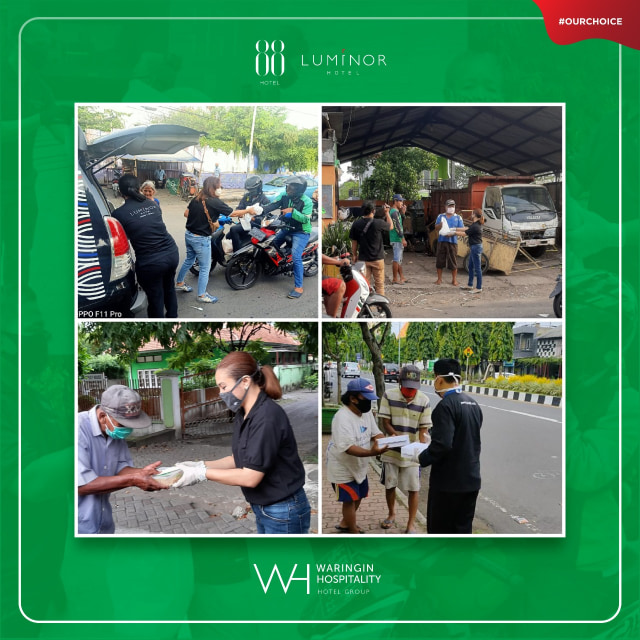 For the Jakarta area, donations were given at the Yatim and Dhuafa Hostel in Tomang. For the Bandung area: PYI National Amil Zakat Institution and Nurusyifa LKSA. For the Purwokerto area: in the Wangon Banyumas area, at a red light that has been cooperating with the Police and Regency Government, and in the residents around the Luminor Hotel. For in the Surabaya region: Unair Hospital, Amanah Orphanage Foundation Surabaya, Orphanage and Dhuafa Kutisari, Yestoya Orphanage, Zakat Babusalam Orphanage Foundation, Al-Kahfi Orphanage Surabaya. For the Sidoarjo region: Mamba'ul Quran Orphanage, Rahmatan Lilalamin, Ulin Nuha Orphanage, and Al Ikhlas Mosque. Jember Region: Nur-Iman Jember LKSA Office. Banyuwangi Region: Alun Alun Sritanjung, Blambangan Park, Heroes Cemetery, and PT area. PKBR. In addition, donations are also given to those on the streets such as pedicab drivers, scavengers, beggars, buskers, janitors, and online motorcycle taxis.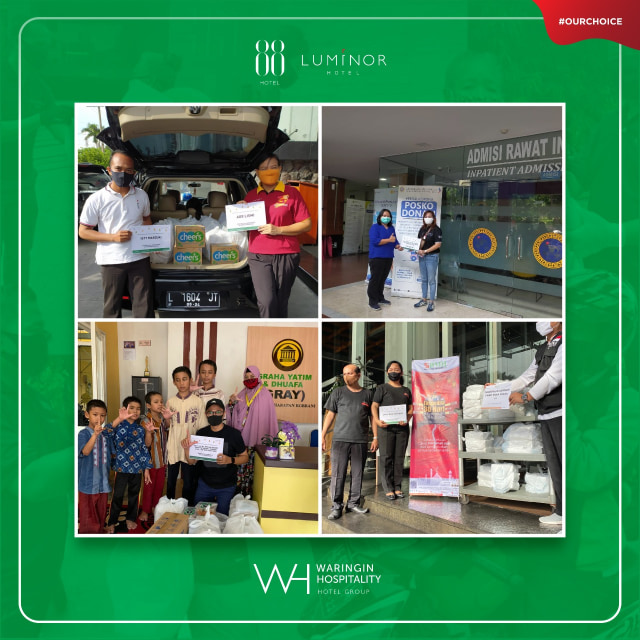 "This is our joint effort to help the people around us who are directly affected by this COVID-19. Hopefully the #DARIHATISALINGBERBAGI # 1FOR1FORINDONESIA movement from Waringin Hospitality Hotel Group will always be an inspiration for all of us, let's be with us against corona. Moreover, I thank you very much for the donors and hotel teams who have worked hard, as well as all the media colleagues who participated in the coverage of this Movement, "said Metty Yan Harahap as Corporate Director of Marketing of Waringin Hospitality Hotel Group.